"We hope and pray to make Georgia a better place for our furry little creatures"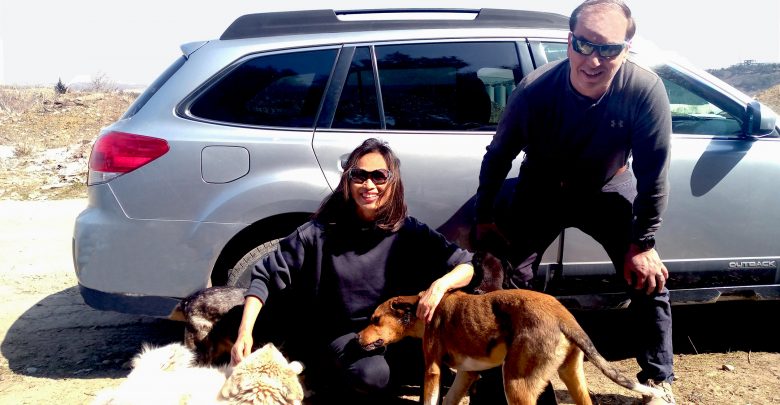 On the eve of the International Homeless Animals Day, which was established 20 years ago – April 4, 1992, in USA, Mark Lopez answered Georgian Digest's questions and spoke about the opening of the first animal shelter in Rustavi.
More than a hundred dogs on the roads of Tbilisi and Rustavi have been waiting for Mark Lopez and his wife Yong for several months every day, and in the car they have several bags of dry dogfood, prepareddishes with food, and medicines.
The four-legged, of course, do not know that their friends, who come to them in any weather, are an American married couple from distant California.
You actively help homeless animals in Georgia, invest your money, and involve other people in this. Tell us about your Organization; when did you start caring for stray dogs?
My wife Yong and I have always loved animals throughout our lives, particularly dogs. We have always owned small breed dogs but have always helped and fed homeless dogs. I arrived in the Republic of Georgia in January of 2021 as a contractor to assist and help out the Georgian Defense Force throughout the entire country. When I arrived, I was surprised at the beautiful breeds and varieties of homeless dogs; as I began to walk my neighborhood in Rustavi and drive throughout the entire country, I noticed these dogs were everywhere. I saw these dogs following people non-aggressively and begging for food, so I naturally started buying 10 kg bags of dry dog food and some can foods for dogs. I got to the point where if I saw a dog with exposed ribs and looking desperate for food, I always stopped and fed them, and I was shocked how some dogs were so hungry and rapidly devoured the food I put on the ground for them. After several months of spending money on dog food and helping out those with skin diseases or things of this nature, we naturally fell into a pattern of caring and feeding for these dogs. Yong arrived in April 2021, and I had already sent her many photos and videos of the dogs I had fed and met and became friends with. The day she arrived at Tbilisi International Airport, she even started feeding the dogs at the airport. As Yong settled in and met many of my homeless dogs, approximately 10-15 at the time, we started thinking about possibly starting an organization or some shelter. We already were spending around 500 Gel on dog food, but we didn't care; we just loved these dogs and wanted to help them out. As we traveled together and fed dogs, we would meet people also feeding and caring for dogs. The entire time, we would tell the different stories of different dogs to my daughter Sarah, a Doctor in California, and of course, she started coming up with all these other ideas and sending her own money to help us out with the cost. We are now spending around $1300 a month on medications, food, gasoline, and feeding over 110 dogs from Rustavi to East Point. We love it, but it is tough for us, and we spend about 8 hours a day in food preparation and traveling to feed the dogs. One of our frustrations is because people see us feeding the dogs, so we start to see more dogs dumped on the highways, and of course, this throws more of a burden on us for both time and money. Many local Georgians think we are some government agency, and they ask us for food for their dogs and sometimes bring more dogs to their farm, place of business, or work and expect us to start feeding them.
Tell me about the dogs that live in your house in Rustavi. 
My wife arrived from the United States with one of our dogs from Hawaii, Jumbo, a Rat Terrier Chihuahua mix that we adopted when we lived there; we left the other dog Kona, a Chihuahua and Miniature Pincer mix, because she was too old to travel, 16 years old at the time. She is still alive and with my mother in CA. In August 2022, as Yong and I were traveling home on Rustavi Highway from the Lillo Market area back to Rustavi, my wife noticed a small dog on the side of the highway. We turned around and fed him; we then realized his skin and condition were in such bad shape, we decided to take him home and treat him with drugs and nurture him back to a good condition. After keeping him for a month, we decided we would keep him and take him back to the United States with us. We named him Max, and this guy has had a series of bad luck; a few months ago, a Pitbull attacked him in Rustavi, and 50% of his upper jaw was ripped away from his face; the event was horrific. Most people would have put him to sleep, but we decided to save him and took him to the Surgeon Giorgi Chikvatia in Tbilisi; Max is alive and well now and happy, but continues his surgeries, two already. Just this last week, on my Birthday in March, Max got away from me with his leash attached chasing another dog; he got hit by a car, bounced up and took off running like a bullet and got hit by a second car; he survived this and launched again like a rocket, I thought for sure he would die that evening. We looked for him until 2 am that same day and never found him, we said a lot of prayers and spread the news among many of our Georgian friends to help us out. We looked everywhere in old Rustavi for the next two days and into the countryside and eventually found Max, one of my best Georgian friends Giga found him a place that he and my wife insisted he would be.. The outpouring of support within our Rustavi community and among Georgians spreading the news and helping us out was incredible. We have a third dog that we found on the Rustavi Highway after getting hit by a car; the weather was cold with rain and snow. We decided to take this beautiful dog home and see if he would recover; we named him Spartacus because of his toughness. Tomorrow we have a dog wheelchair arriving from the United States; we are so excited to let him try it out. He loves to go to the park twice a day and drag his rear legs around behind him; this is his favorite part of the day.
When did you get the idea to open a dog shelter in Georgia? What type of shelter will it be, and in what part of the country will it be located?
This idea to open a shelter started back around June 2021, we talked forever about this and pitched the idea to many friends, and we got a lot of different feedback on some of their ideas.  The Organization is currently a non-profit established in CA, we have a website, and the information is spreading among Americans and Georgians. However, we have not built any infrastructure or employed anyone here in Georgia for the facility yet. Our goal is to keep feeding the dogs we can and any new abandoned dogs. We are starting to see some donations from people in America but not nearly enough to start building facilities or purchasing land. So far, most of the money spent to feed these dogs comes out of our savings. We hope to buy land between Rustavi and Tbilisi, and we hope to see some volunteers and eventually be able to employ dog lovers to work at the shelter.
In your opinion, are foreigners ready to help you implement this idea?
We are already seeing a lot of interest and actual donors to our non-profit. With the growing number of views on our website and positive discussions, my daughter in CA has had. With the peaked interest among Georgians, this could be a future sanctuary for these dogs and a great information campaign to build awareness to save both dogs and cats here in Georgia.  Americans are huge animal lovers, and our dog shelters and programs get massive support from almost all people in the United States. Although we also have robust laws that protect animals from abuse, most people take it to a shelter if they can no longer care for a dog, and the dog is usually adopted relatively quickly.
Will you help the dogs to find a new home in other countries?
This concept of adopting dogs to other countries is already happening in many countries, including Georgia. We have connected with programs in Sochi, Turkey, South Korea, and several other countries; we are gleaning some great ideas and hearing from them about their success and challenges. Of course, we would love to get to this level where we can adopt them out to people in the US, but I think the honest and best answer is to develop a culture here in Georgia where people will adopt homeless dogs and stop dumping dogs when they no longer want them.  This practice burdens all of society and is very hard for dogs, which often get hit by cars or killed by other dogs.
How did your daughter perceive your idea to open a shelter for dogs in another country?
Shelters are a natural response for an American, we have shelters in every county and every city, so our natural tendency is to ask or wonder where the shelters are? But, after working overseas for 30 plus years, I know most countries do not have shelters, so Sarah and Yong and I knew this was the natural solution for all these dogs in Georgia.
How do animal shelters work in America? How many volunteers do you have in your country?
Most shelters in the United States are funded in a limited capacity by government funds. Still, most shelters are non-profit and receive most of their funding from donations, and most of their workforce is a combination of volunteers and employees paid for out of contributions. The facilities are all well maintained and immaculate, and the dogs are kept in pens, walked, and let out to play and exercise. All dogs are neutered and spayed and given all required vaccinations and chipping. In addition to these requirements, background checks are done on potential owners who want to adopt the dogs.
When did you first visit our country, and what impression did it make on you?
The first time I visited Georgia was when I arrived in Jan 2021. I instantly was impressed with Christian Crosses everywhere, and since I am a Christian, I saw this as a sign of hope. However, as I settled into the country and my job, the two negative things I witnessed were the presence of so many homeless dogs everywhere and the amount of garbage all over the beautiful countryside. But, on the other hand, some positive things I experienced were witnessing so many Georgians that love dogs and feeding and caring for them, mainly within city limits. This is one reason we focus on the countryside dogs with no one to feed them.
How do people perceive your activities and react when they see you feeding dogs on the street?
People usually honk their horns and give us a thumbs up, which is generally a positive reaction. We have had a few people complain, but they typically are just fearful of dogs and don't want stray dogs around their children. We also understand that dogs can be a nuisance with barking and going to the bathroom in public spaces, so we do our best to train them and correct them. We hope and pray that we all work together, both foreigners and Georgians, to make Georgia a better place for our furry little creatures. I genuinely believe Georgia is on the right track to eventually becoming one of the most attractive tourist destinations and an excellent example to develop excellent programs for homeless animals. The Georgian people should not feel wrong about these problems; over a 35-year career and working in over 40 different countries, I have witnessed the same issues, and over 2-3 decades, these countries usually resolve the problems; it takes time, education, and lots of love and volunteers.
 website:  www.peaceforpawsrescue.org
Instagram:www.instagram.com/peace.for.paws.rescue/